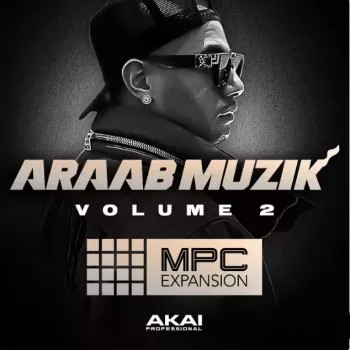 AKAI PROFESSIONAL & araabMUZIK presents the exclusive new Expansion only for MPC!
Akai Professional and AraabMUZIK have teamed up to bring you the much-anticipated follow-up from his legendary MPC Expansion.
World Grammy Nominated music producer and the original King of Finger Drumming…. AraabMUZIK delivers a whole new dimension to beat production with the official VOL 2. Inside his Expansion are 24 exclusive kits and projects only available for MPC, putting your beats into overdrive. This hard-hitting pack takes production to a whole new level bringing the sound of the New York streets to your pads and keys!
Inside araabMUZIK Vol 2Includes over 300 Hard Hitting Kicks and Snares, Crisp Claps, Melodic Loops, Classic HipHop Loops, Vocal Chops, 808's, Percussion, Snaps, SFX, Drops, AND MUCH MORE.
· 24 MPC Producer Kits
· 24 MPC Projects
· 24 Midi Sequences
The Sounds:
· 20 x Kicks
· 24 x Claps
· 103 x Hats / Cymbals
· 103 x Hats / Cymbals
· 11 x Bass, 808
· 33 x SFX
· 55 x Music Loops
· 58 x Percussion Hits
· 20 x Rims
· 33 x Snares
· 15 x Hits
· 24 x Vocal Textures